Evyesonik Versions
Evyesonik exists in 3 different models : Under-the-Sink, Embedded, and Compact.
1- Evyesonik • Under-the-Sink
During the construction of the kitchen, upon request of the customer, Evyesonik can be installed on any type of Sink. Totally invisible from the exterior, the systsm is accessible through the cabinet doors under the sink.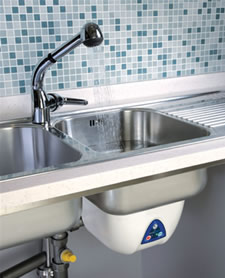 2- Evyesonik-C • Compact Model
The compact model is not mounted in any place of the kitchen. This portable model can be used in any place and is easy to carry.